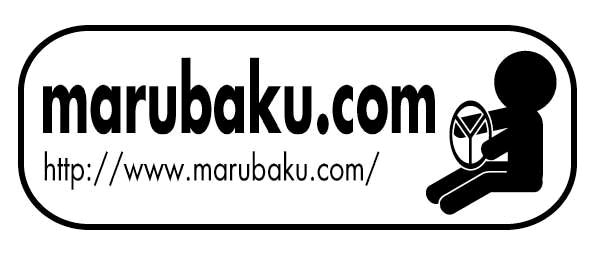 "Team Marubaku the best arcade racers on the planet!"
"Crazy people!"
"The guys are crazyyyyyyyyyyyyyyyyyyyyyyyyyyyyyyy!!!"

These are some of the phrases describing about us on your BBS.

Welcome to our "TEAM MARUBAKU" website!

Our Team was established in 1995 by a group of arcade driving game freaks.
We decided to launch the English website to make ourselves correctly understood to
those increasing number of people outside of Japan who came to know us through
"MARUBAKU SUPER-REPLAY","GAMEST Magazine" and "ARCADIA Magazine"
and began accessing to our Japanese website.

Even though most Japanese are capable of reading in English, but not so much in
writing and talking.Nor are most of our Team members, not so fluently in English
like native speakers. So the update frequency of this English website would be
far behind from the update of our Japanese one. We would also like to remind you
that your questions on our BBS cannot be readily and correctly responded.
We apologize for the inconveniences and appreciate your kind consideration.

As previously mentioned, We formed the Team in 1995 by a group of guys who loved
"Sega Rally Championship". Japan is undoubtedly one of the most advanced country
when it comes to video games, especially arcade games. Japan have a great number of
players and We believe that Japanese players are well ahead in playing techniques.

We have mutually worked on our techniques and always drove ourselves on the leading
edge of the Japanese arcade driving game scene.We know that there are many others
whose playing levels are as high as ours or even higher, but we believe ourselves to be
the best in Japan and therefore in the world when it comes to the level as a group,
maintaining a constantly high level of techniques for any and every title of driving games.

We will continue our contribution to keep the arcade driving games scene alive.
We will actively disclose our techniques as in "MARUBAKU SUPER-REPLAY, edit
"technique know-how books" and advise on product development (as we did on many titles).
We see many foreign game manufacturers finding difficulties in coming into Japanese
arcade game market due to localization and adjustment issues to Japanese players.
We believe that we could be of some help and are very keen to collaborate with those
foreign game manufacturers. We look forward to having new opportunities to help them
release new exciting arcade driving game titles in Japan.

We would also like many players to exchange techniques and information on our BBS.
Though we may not be good in English, but perhaps some of the members might rack
their brain to respond in broken English, or maybe other English-fluent Japanese
players could help. We also look forward to hearing from you regarding your thoughts
on our "MARUBAKU SUPER-REPLAY".

We sincerely wish that this website could be of some help to all of you.

Thank you.

Copyright &copy 2004 TEAM MARUBAKU All Rights reserved.
All manufacturers,names,brands and associated imagery featured in this website
are trademarks and/or copyrighted materials of their respective owners. All rights reserved.